How to Write More, Write Better, and Be Happier: A Half-Day Retreat with Joni Cole
February 07, 2017
By Brigid Browning and Joni Cole
WHEN: Saturday, March 11, 2017 – 9:00 am to 1:00 pm
WHERE: 115 Upper Sunnybrook Road, Middlesex, Vermont
This retreat will help you cultivate a healthy and productive creative process that will serve you now, and for the rest of your writing life. You'll learn tips and techniques to get started and stay motivated. You'll receive quality instruction on craft. You'll also find inspiration and generate new material through writing prompts and other forms of sustenance, most notably gathering within a supportive community. The retreat also offers the opportunity to share pages for personalized feedback. Both nervous beginners and seasoned authors are welcome – this workshop meets you where you're at in your writing life, and moves you forward from there. Everyone is encouraged to bring 3 to 4 pages of writing to share for appreciation and critique. Gourmet lunch, beverages and snacks provided. Cost to participate is $125. For more information or to register, please email jonibethcole@gmail.com or telephone 802.698.8074. Please note, workshop registrations must be paid
in full prior to the retreat and are non-refundable for cancellations within 48 hours of the event.

Instructor Joni Cole is the author of the forthcoming book Good Naked: Reflections on How to Write More, Write Better, and Be Happier (University Press of New England, April 2017). Her acclaimed book Toxic Feedback: Helping Writers Survive and Thrive is "strongly recommended" for students and teachers by Library Journal. ("I can't imagine a better guide to [writing's] rewards and perils than this fine book," American Book Review.) She teaches in the Master of Arts in Liberal Studies program at Dartmouth College, serves on the faculty of the New Hampshire Institute of Art, and is founder of the Writer's Center of White River Junction, VT. For more info: jonibcole.com
R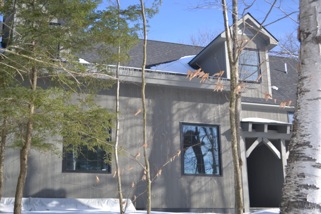 etreat host is Brigid Browning. Brigid resides in Middlesex, Vermont with her husband and two boys. She is CFO for multiple family businesses and Chair of the Central Vermont Women's Giving Circle. Brigid is a UVM graduate. She has worked professionally as a charitable giving director and nonprofit executive. She has lobbied at the State and Federal levels on matter pertaining to our environment and animal welfare. She has served as staff for the U.S. Senate Agriculture Committee and U.S. Senator Patrick J. Leahy, and numerous political campaigns. Brigid is a student (and fan) of Joni's, a member of the League of Vermont Writers, and hopes to one day obtain an MFA in creative writing.